Top 10 Places To Visit in Muscat And Oman
It's all natural in Oman – Mountains, Beaches, Valleys, Caves and Sands. There are many places to visit in Oman.
It is the breath-taking natural beauty that makes your trip memorable along with few man-made structures and ancient monuments.
The more your visit to the nature side in Oman, the more you will enjoy. Here we list down few places you should visit if you are planning to visit Oman. Of course there are other locations like nizwa, muzannah which is not listed here. If you visit all these places listed below you will understand there is nothing much more interesting in other places.Here are the Top 10 places to visit in Muscat and Oman. 
1. Grand Mosque : With World's Largest Carpet & Chandelier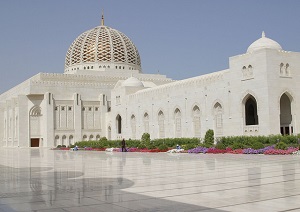 The Sultan Qaboos Grand is one of the most beautiful and extravagant modern mosques in the world and a must place to visit in Muscat. The mosque was first opened in 2001.
 A major feature of the design of the interior is the prayer carpet which covers the floor of the prayer hall. It contains, 1,700,000,000 knots, weighs 21 tonnes and took four years to produce, and brings together the classical Persian Tabriz, Kashan and Isfahan design traditions.
 28 colors in varying shades were used, the majority obtained from traditional vegetable dyes. It is the second largest single piece carpet in the world The chandelier one among the largest in the world above the praying hall is 14 meters tall .
Non-Muslims are allowed to visit the mosque every day, except Friday, from 8:30 until 11:00 am. Visitors are asked to dress modestly and in a way befitting places of worship. Women are also required to cover their hair.This is one the top 10 places to visit in Oman and Muscat.
2. Matrah Souq - The Oldest Market In The Arab World
Souq Means Market. Mutrah Souq is one of the oldest market in the ARAB WORLD , a traditional Arab market housed under modern timber roofing.This is a place that almost all visit in Muscat.
Earlier, it was the single market near to the port where ships comes from distant places . The market was a source of supply for Omanis where they can buy their needs in the 1960s when life requirements were simpler than today. Most of the goods were imported.
Today you can get mix of traditional including Omani pots, paintings, hookah pipes, framed khanjars (daggers), leatherwork ,incense old Arabian muskets as well as modern household goods, shoes and ready-made garments ,perfume oils, fresh jasmine and spices. This is one the top 10 places to visit in Oman and Muscat.
Omani silver, stalls of gleaming white dishdashas and embroided kumahs, brightly colored cloth and multicoloured head scarves can also find at Matrah Souq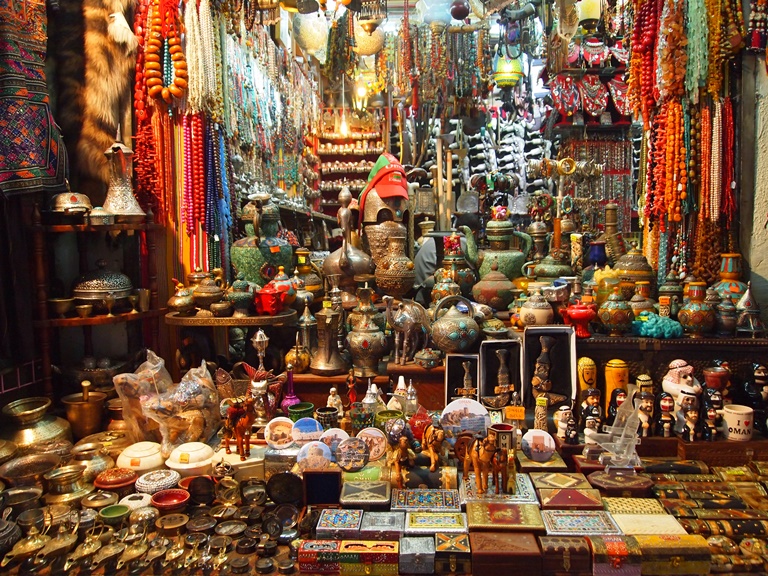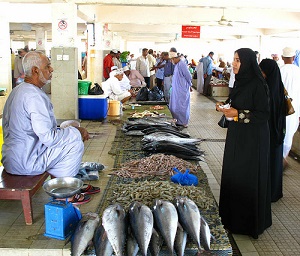 Fish Souq ,Mutrah – A Live Local Fish Market Except Fish.
Fish Market is walkable distance from Mutrah Souq good for a quick stop to see Omani fisherman and their catch of the day. Interesting if you like to see what they fish in the area,it's small. A real local working market.
The palace has built over 200 years, built by Imam Sultan bin Ahmed the 7th direct grandfather of the current Sultan. The existing palace, which has a facade of gold and blue, was rebuilt as a royal residence in 1972. Visitors are not allowed inside the palace,
3. Jebel Akhdar – A Mountain With Blue Umbrella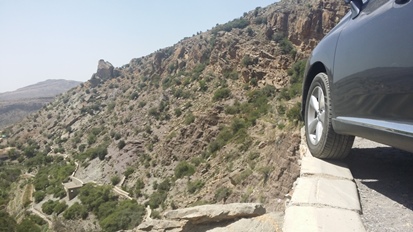 Jebel Akhdar is almost 2000m above the sea level, is one of the favorite places to visit in Oman for tourists It is more to a mountain ride.
The views are just amazing. Up in the hills you find donkeys and villages. The magnificent mountain range can be compared with any of the hill stations of the world, but, with a unique blend and twist of its own bio-diversity.
The range mainly consists of different types of huge rocky layers that are so beautiful to watch while reaching Jabal Akhdar. Jabal Akhdar is known for its unique pomegranate and roses. Pomegranate from here is considered the best in the world for its quality and nutrition. This is one the top 10 places to visit in Oman and Muscat.
Sparkling non-alcoholic drink is made from Pomegranate is very healthy and tasty, more often this is used in parties in this part of the world and is called as local champagne. The rose essence and rose water made from here are known for its quality and are exported to various countries.
The rose essence is used for fragrance, culinary and medicinal purposes. Other fruits grown here include, peaches, berries, walnut and apricot.
For Travelling: 4*4WD is must for travelling to Jebel Akhdar. It may better to travel to Jebel Akhdar and return for the same day evening. It is more worth to spend one day in another place like wahiba sands or Salalah.
Jebel Shams Or Jebel Akhdar ?
It is preferred to Visit one place Either Jabel Akhdar Or Jabel Shams as both are mountainside.
4. Wadi Shab – A Beautiful place to visit In Oman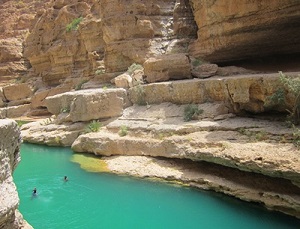 Another must visit for your oman tour. Be ready to get wet in this place. Wadi shab is an amazing place to visit in Oman which is of Pools , Rocks and caves .
You need to be physically fit to enjoy this place by walking through the rocky paths, uneven ground, sometimes through shallow water and swimming for almost one hour to two hours.
The most incredible part at the very end which is ONLY accessible through swimming. To reach the end is without doubt worth it. The small pools of water turn into one large pool, some of it you can walk through and some you have to swim. A must place to visit in Oman.This is one the top 10 places to visit in Oman and Muscat.
At the end of this is an indoor cave which is accessible via swimming through a very narrow gap in the rock for about 3 metres. Once inside, there is waterfall about 15ft high which you can climb. What an incredible location.  4*4WD Not Required
5. Bimmah Sink Hole – Natural Swimming Pool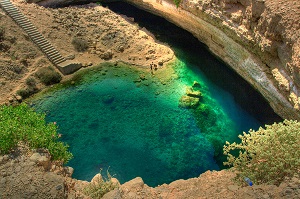 Bimmah sinkhole is natural hole .."meteorite impact hole". in the earth that is filled with sea water. Bimmah Sink Hole is a place to visit who wants to see great geological spectacle. If you were the only people in the whole place then it would be extremely peaceful and relaxing.
The water is cool, so it is great as a nice way to refresh yourself on a hot summer's day. In the sink hole there are tiny, little fish that will nibble at the dead skin on your toes and legs, if you stay still enough.
The water can get quite deep towards the middle of the sink hole, so you are able to swim properly. You can visit Bimmah Sink Hole on your way back from Wadi shab..After visiting Wadi shab you may feel Bimmah sink hole as an average.
6. Nakhal Fort – Born 1000 years ago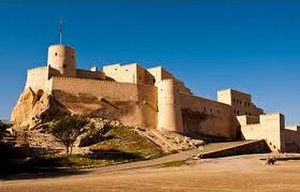 Have glimpses of Oman Royalty built more than 1000 years ago. Nakhal Fort is surrounded by orchards of palm trees. Nakhal fort  is a place to visit in Oman for people interested in historical monuments.

 Built in the architectural style of the Sultanate of Oman, it is unique in that it was built to fit around an irregularly-shaped rock with some rock exposures jutting out into the interiors.
This famous old fortress has witnessed countless battles. Climb to the top of the watchtowers and you'll be rewarded with magnificent views of the surrounding countryside.
During recent renovations the fort has been fitted with traditional furniture, handicrafts and historic artifacts.
7. Nakhal Hot Springs – Get Natural Fish Pedicure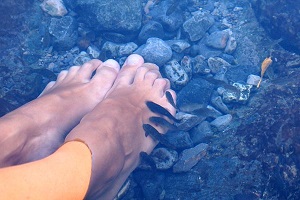 Nakhal hot spring is very near to the Nakhal fort at the foothills of the mountains. Nakhal hot springs is a place to visit near Muscat.
You see the warm waterfalls…gushing out of the rocks into a pool where you can dip. It is said that the water itself is medicated . The hot spring cures your bone related problems.
Just sit on one of the many rock formations at the side of the wadi and dip your feet in to the water. Soon, small fishes begin to tickle you at first and its quite pleasant to see the satisfaction in fishes on eating away your dead skin. Get a smooth feet after this complementary Fish pedicure. 
4*4WD Vehicle Not Required
Avoid : During Weekends
8. Wahiba Sands – Find Peace At Desert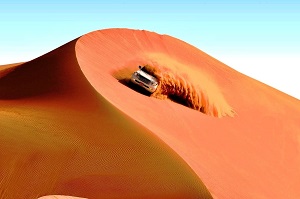 The Wahiba Sands is a large desert area . trip across the desert is a thrilling adventure of dune bashing and camels! The colours of the sand vary in the light across the desert. Wahiba Sands is a must place to visit in Oman who wants to have an experience of desert.
You can stop in the tent of local people, Beduins, and you will be welcomed by black coffee with cardamon and Omani dates and to buy some souvenires, hand made from wool, or silver necklaces.
Dune bashing, camping, barbecue, camel riding, sleeping under the stars, or just sitting gazing at the moving sands , A Buffet of Fun It is possible to visit the sands as a day trip, but the majesty of the night sky and the pleasure of dawn in the dunes makes a stay at one of the desert camps a better bet.
You can reach the Wahiba Sands by saloon car but to drive into the sands requires a 4-wheel drive.
9. Salalah – A Green City In Desert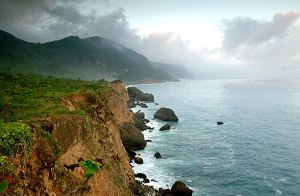 Salalah is the second largest city in the Sultanate of Oman and is the birthplace of the Sultan, Qaboos bin Said . Salalah is place to visit in Oman who are dying for green natural places.
Between 1932 and 1970, Salalah was the capital of Oman, later His Majesty Sultan Qaboos Bin Said moved the capital of Oman to Muscat.
Salalah is one of probably only two places in the Arabian peninsula (besides Yemen) that experiences a monsoon season, which is called Khareef and lasts from July to September.
Salalah's natural beauty is worth to spend at least two days better during July and August.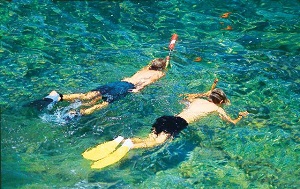 Daymaniyat is one of the best dive area in Oman and is place to Visit in Oman who knows swimming. Having dived in several locations in south east Asia. In a good day, visibility can reach 15 to 20 meters.
Nobody lives at Daymaniat Islands except for the birds and marine fauna populating the crystal-clear water which gives great opportunity to snorkel . Diving around Daymaniyat is spectacular with drops-off, submerged reef and submarine caves.
You can see big and whale shark. Beaches are wonderful, white sand and just the sound of the sea: a real paradise. 
Absolutely worth to this place in oman where you can spend the final half day of your tour if not going to Salalah
Remas Hotel Suites - Stay Once Remember Forever